You are currently browsing the tag archive for the 'teachers' tag.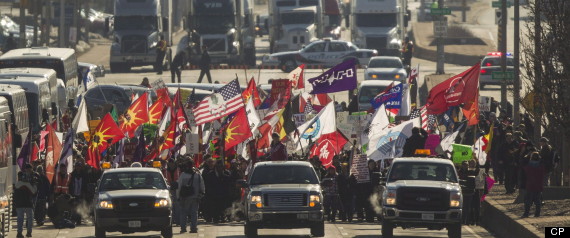 Within the past week, Canada witnessed an explosion of activism. While things have hardly been quiet for the past year or so, they're now starting to snowball. Protests are now almost a daily occurrence in many parts of the country, and momentum on many issues is only continuing to grow.
Idle No More
Wednesday, indigenous protesters once again got the country's attention with a national Day of Action held by Idle No More and others. Numerous roads and rail lines were shut down as a part of the growing protest movement. Actions took place at the Ambassador Bridge (Windsor-Detroit), Sault St. Marie border crossing, Westmoreland Bridge (Fredricton) Trans-Canada highway (Banff), Queen Elizabeth II highway (Calgary), Highway 400 (Barrie), Highway 117 (Quebec), rail blockades by Kingston, Portage la Prarie (by AIM!) and Gitwangak (BC), and rallies downtown in Toronto, Ottawa, Iqaluit and many others.
These actions mark a shift away from less disruptive spectacles like flash mobs and round dances which have characterized most of the Idle No More actions over the past month. They've evoked controversy both within and outside the movement. Finance Minister Flahrety, echoed by many editorials, has expressed concerns about possible threats to Canada's economy. Meanwhile, Sylvia McAdam, one of the founding members of Idle No More, questions the use blockades for portraying "a message of aggressiveness", which contradicts the movement's peaceful character. Others, have responded that these actions have been, in fact, completely peaceful and that militancy has often played an incredibly important role in such social movements.
Enbridge
A busy week of demonstrations took place in Vancouver against Enbridge's proposed Northern Gateway pipeline. The largest event was a night march with thousands, which even featured a small (~20 people) black bloc, which got a lot of attention despite not smashing or disrupting anything. In contrast, six young demonstrators, clad in colourful tee-shirts from a moderate environmental group, were arrested yesterday after briefly managing to sneak inside and disrupt meetings, yet received surprisingly little criticism for "militance".
Closer to Home
Locally, around 70 people gathered Wednesday morning in Cayuga to support Theresa Toad Jaimeson, facing a court date relating to one of Gary McHale's last forays onto the Reclamation Site in Caledonia, where a former development has been occupied since 2006.
In Hamilton itself the same morning, a crowd of around 30 community members held a picket outside Sir John A MacDonald Secondary in support of teachers in their labour dispute with the province. Briefly delaying traffic outside the parking lot, they handed out fliers explaining that "we're here because teachers can't be".
Last night a large crowd descended on City Hall to voice their opposition to a Casino downtown (also, a small handfull of "yes" demonstrators). After rallying in the snow (complete with racehorces!) and hearing speeches, the crowd headed inside for the meeting, where a number of representatives spoke to council. This latest hair-brained "revitalization" scheme has drawn an incredible amount of fire from the downtown community, particularly James North, fearing the social effects of gambling addictions, because of the dismissive attitude toward downtown from proponents and out of fear for the fate of Flamborough Downs and it's horses (currently OLG's only permitted slots in the area).
The New Canada
Our country, it seems, has lost some of our innocence. After the G20, after Occupy, and especially after the Quebec Student Strike, we're no longer quite as shocked by protests. As turnouts grow and issues multiply, so does the number of people involved. Protesting becomes less alien, and more accessible to a wider number of people, who now have a lot less trouble imagine themselves marching with a sign. Protest is once again becoming part of our culture and political process, and it's about damn time.
In recent years, the decisions made by the Canadian government have become increasingly distant and disturbing. Harper alone has targeted First Peoples, workers, the environment, refugees, prisoners, pilots, railroaders, postal workers, the internet, NGOs, scientists and most recently, Mali. Our international reputation is in shambles. He may even have stolen the election, but nobody seems to want to talk about that. Just like there's very little mention that Ontario has now been operating without a parliament for three months. Quebec's government, it now turns out, was corrupt to its core, and even here, Mayors just keep coming up on "conflict of interest" charges. Then there's the austerity schemes, the development plans and the total disregard for treaty commitments and democracy.
If these problems – the colonialism, the corruption, the grandiose but toxic boondoggle projects – show one thing, it's that we've all been idle for far too long. Without the watchful (and occasionally wrathful) eye of the public, power will inevitably corrupt, and it has. This system cannot function, though, without the daily cooperation of tens of millions of people, something which is no longer guaranteed. The legendary patience and politeness of this land's inhabitants have worn thin, but not our determination.
This is what democracy looks like.
This morning, a few hundred teachers and allies rallied downtown. Gathering in front of City Hall, the crowd heard speeches then marched along Main, down Hughson (pausing for more speeches outside Andrea Horwath's office) concluding at Gore Park for hot cocoa. The speakers, always a labour rally staple, were some of the best I've heard in years, including not just teachers but a wide range of others, from School Board trustees to anti-poverty activists and representatives of Six Nations. Along with the warm weather, frequent honks and amazing short-notice turnout, it all combined to provide an amazingly high-spirited rally.
Across Ontario right now, schools are gripped by strikes and walkouts in opposition to the Provincial government's Bill 115 (text). The bill, which freezes wages, cuts benefits and bans strikes, has infuriated teachers over the past months. In response, both elementary and secondary teachers have been staging short rotating strikes and work-to-rule campaigns in boards across the region, joined by a growing number of student walkouts, including hundreds Hamilton's Sir John A MacDonald and Delta students this past Monday, and our Elementary teachers are slated to hold a one-day strike Monday.
What McGuinty accomplished with Bill 115, one of the last passed before he prorogued Parliament, was effectively pre-emptive back-to-work legislation. It interfered with contract talks before bargaining had even begun, and in the process seriously offended teachers. Given the history of teachers' unions, this wasn't likely to go down without a fight, and it's quickly escalating as the strike deadline approaches.
Unlike previous labour strife, like the battle over Bill 160 in the Harris years, opponents have been much less successful at isolating and demonizing teachers. With students walking out and boards passing resolutions against the bill, the province is finding itself with a lot less friends this time around. It's hard to have sympathy, I suppose, when these legislators haven't shown up at their own workplace in months.
Also favouring teachers is the recent history of education-related activism. Similar battles with BC teachers didn't help with the falling popularity of the province's Liberal government. Teachers strikes in Chicago, similarly, quickly turned into a much broader movement and successfully challenged the city's government. Then there's the student strike in Quebec this past spring and summer, which turned into a resounding defeat for former Liberal Premier Jean Charest. And of course, there's what happened in Oxaca, Mexico in 2006, where protests by their teachers' union escalated into a (deadly) battle between the state and popular forces for control of Oxaca City. Simply put, teachers' unions have become the 'natural predator' of provincial governments across the continent.
As with most battles like it, Bill 115 represents only the tip of a much larger iceberg. Austerity policies are being implemented at the federal and provincial levels, tossing thousands out of work and cutting many more off benefits such as EI. Most of those affected by these cuts don't have anywhere near the level of union representation or influence that teachers do, making this fight and others like it a pivotal battle. It also illustrates why it's so important that teachers are connecting with other affected groups – workers, First Nations, the unemployed etc (many of whom showed a presence today). Solidarity is the only way to combat agendas on this scale, and I'm heartened to see that it's happening.
I passed the age, long ago, where more of my friends teach high school than attend it. Having very close friends and even house-mates who teach, I've seen how brutal a career it can be. I may have an incredibly (physically) taxing job, but the exhaustion I've seen in friend's eyes after a long day in front of classes or grading papers is just as real. Perhaps the saddest of all, I've known too many teachers who've literally begged their kids not to follow in their footsteps. These aren't "spoiled" or "entitled" workers, they're people we depend on to help raise our kids.
Though I'll always have my suspicions about state-sponsored education, it won't be improved through cuts and neglect, or broad, sweeping policy changes from the province (standardized tests and curricula, etc). Like any organization, schools need input from those most affected, and that means the people who spend time their daily – teachers, students and support staff along with parents and community members. This isn't just about budgets and salaries, it's a question of who controls schools and education itself.
Across Canada right now, educational institutions are in turmoil. In the wast, BC's teachers are now on strike. Throughout Quebec, there's been student strikes at universities across the province. On the east coast, Dalhousie faculty and staff are threatening to strike after this weekend. These conflicts rise out of sweeping eduction cuts now being witnessed across the country, another example of our nation's new commitment to "austerity"
British Columbia
Public teachers in BC return to work today after striking since Monday and may walk out for another day days next week. The provincial government has maintained it's position of net-zero increases in pay and benefits and refused to make any concessions. Teachers are now under threat of back-to-work legislation which would eliminate seniority systems, remove class size caps and place broad, sweeping limits on their ability to strike or protest for a "cooling off" period extending for the rest of the year. A rally was held yesterday in front of the Vancouver Art Gallery and on Tuesday in front of Victoria's legislature. Job actions such as work-to-rule are planned to continue as long as possible.
Quebec
After attempting to substantially raise tuition fees, student strikes broke out across the province with rumours of over 120 000 high school and post-secondary students now participating. Yesterday tensions erupted as protesters rallied around a number of government buildings and attempted to enter the Loto-Quebec headquarters (which included University administration offices) and were attacked by riot police with batons, tear gas and pepper spray. This isn't the first time police have been called in to remove marchers from blocking the Jaques Cartier Bridge late last month, also with pepper spray.
Halifax
Over eight hundred professors at Dalhousie University are set to strike Monday, very possibly followed by support workers soon after. This comes in a city awash with such actions at the moment, as health-care and transit workers are also striking.
Ontario
Locally, Premier McGuinty is now demanding a wage-freeze from teachers, backed by threats of implementing cuts suggested in a recent report by economist Don Drummond, such as eliminating all-day kindergarten and class-size caps. Unions have requested a meeting with the premier, but been rejected.
On the national scale, word is that Harper plans to unveil the new "austerity budget" at the end of this month. Air Canada workers are threatening to go on strike next week, with Harper already talking back-to-work legislation, much like with Canada Post. With austerity likely to strike at provincial levels as well, given troubling signs like the Drummond Report in Ontario, all signs point to a brutal year ahead for Canadian workers.