You are currently browsing the category archive for the 'Uncategorized' category.

Numbers released this past week show, once again, that the European Union's economy failed to grow in the last quarter, making this officially the longest recession the EU has ever suffered. Numbers from America revealed a sudden, unexpected drop in manufacturing growth. Even now that the stock market has finally re-reached its post-crash heights, troubling indicators like this continue to appear, an uncomfortable reminder that the collapse of '07 is still with us.
Behind the ugly numbers lies a raging debate about economic theory and policy. On one side, the followers of John Maynard Keynes, such as Paul Krugman, lead economist of the NYT. On the other, the beliefs of Hayek, Mises and the "Austrian School". Keynes is renowned for his role in ending the first Great Depression through New Deal style spending, whereas Hayek prescribes what has come to be known as austerity – cuts, privatization and tax relief for the wealthy. Both of these sides are winning in their own way – Krugman is pretty blatantly winning the argument, while most of the world's governments are still pushing austerity measures.
Losing the Argument
Among the strongest arguments for austerity was the landmark study, Growth in a Time of Debt, held up around the world as proof that a high debt:GDP ratio led to falling economic growth. Fortunes for authors Reinhart and Rogoff recently took a turn for the worse, though, when 28-year-old grad student Thomas Herndon took a close look for a class project and realized that the crux of the argument was based around a spreadsheet error in Microsoft Excel. He listed other methodological errors, of course, many of which had been pointed out before (and all of which should have been obvious). This humiliated many austerity proponents to the point where Stephen Colbert joined in the fun, and young Mr. Herndon has gone on to continue debunking Reinhart and Rogoff's responses.
Other high-profile criticism of austerity has been coming from a surprising source – the International Monetary Fund. Leading officials, including Christine Lagarde, the IMF's managing director, have started to urge restraint with austerity. Given the IMF's history, this says a lot – they spent decades as the leading global proponent of Third-World austerity ("Structural Adjustment"), usually with similarly dismal results.
Perhaps most damning of recent condemnations has come from an entirely different unexpected source – the new Pope, Francis. His Holiness, in a recent address to foreign ambassadors, made his feelings quite clear; "The worship of the golden calf of old has found a new and heartless image in the cult of money and the dictatorship of an economy which is faceless and lacking in any truly human goal". His speech touched on the "common good", curbing speculation and focusing on the plight of the poor, themes echoed by many cardinals and, not surprisingly, the Greek Orthodox Church. Makes ya wonder, doesn't it – if even the world's most revered religious figure is talking about the "tyranny" of capitalism, why is it so hard for the rest of us to have a serious conversation about it?
These are only a few examples I could name – they're quite well publicized if you know where to look – and it's not as if the New York Times, IMF or the Pope are hard to find. Among those opposed to austerity are some of the biggest names in capitalism today and their arguments are quite well-founded in standard (capitalist) economic theory. It feels odd, as an ardent anticapitalist, to be taking a side at all, but it does help to give a little context. Even by their own standards, these policies aren't working.
I'm no economist, but the flaws in this logic should have been apparent long ago. For starters, if the source of the European Debt Crisis was the high cost of "Eurosocialism", then why were Spain, Italy and Greece most afflicted, and not Sweeden, Denmark and Norway (their merciless creditors)? How was putting thousands more out of work, cutting wages, increasing tuition and raising working-class taxes supposed to "stimulate the economy"? And, of course, how come the countries which worked hardest to implement these policies aren't getting better?
The View From Below
What's remarkable is how little of this filters down to the local level. When we look in our own newspapers (at least, outside the business section), it's as if the only people objecting were camped in Zuccotti Park. Our politicians, even (sadly) those on the left, are similarly convinced about the need to pass "austerty budgets". From the front page, or any television or radio station, it's hard to tell there's any argument about the economic merits of cutting, deregulating and downsizing, except from a few long-haired hippie socialists and ageing union leaders.
While economists are ignored, though, conditions on the ground have steadily worsened. Unemployment numbers, especially around youth have been at crisis levels in multiple countries for a while now, reaching even the point of public, politicized suicides. Greece in particular has been pushed to the edge of a total social breakdown by austerity, shown best by the frightening rise of the neo-Fascist Golden Dawn in Parliament and on the streets. Italy and Spain aren't far behind, and the widespread breakdown in support for the EU itself has been dramatic. Parties on both the left and right are now openly expressing disdain and the future of the superstate itself is in doubt. If there's one reason above all others that many capitalists are critical of these policies, it's because they're genuinely concerned that austerity will cause another collapse.
The effects of austerity can be charted in another way, as David Stuckler and Sanjay Basu just illustrated in their new book, The Body Economic: Why Austerity Kills. Stucker, a "leading expert on the economics of health", with a host of ivy league credentials, decided to study the subject using the same "evidence-based" approach used when testing new treatments, only to award a failing grade. Their study found ten thousand additional suicides and up to a million extra cases of depression across North America and Europe since the austerity programs begam, and a 200% increase in Greek HIV rates. As far as positive effects of austerity go, when comparing different countries and policy responses, they find little evidence that austerity actually leads to more "growth". Health care spending in particular, they argue, stimulates the economy far better than bailout cheques.
Why?
Why bother listing off the opinions of people I obviously don't agree with on just about any other issue? Because they're very important people as far as these debates are concerned. This brings up the very interesting question of why they're having so little impact on policy or public debates. Part of it can be ascribed to the incredibly successful marketing of ideas that's left many incapable of distinguishing between "economics" and the opinions of a radical fringe of right-wing economists. It takes more than propaganda, though, to sway the policies of so many governments. In spite of all the evidence, austerity is still going ahead, which tells us something about the real motives at work, and how power functions within this global Leviathan. Why embrace an economic strategy with such clearly devastating results? As the old saying goes; cui bono? Who benefits? How do they benefit? And how the hell were they able to accomplish it?
Is austerity a failure? That depends on the intent. If the point was to bring us back to "prosperity" then austerity measures have most certainly been a miserable failure. If the point was to shift capital flows toward a tiny elite of bankers and shareholders, it was largely successful. Corporate profits just had another record-setting year and thanks to the bailouts, the financial industry has rebounded nicely. Even the stock markets are setting record highs again. While most of us are suffering, a few are making off like bandits. To characterize this as a robbery, though, would be somewhat inaccurate. The bailouts were robberies – austerity is more of a racket. Rather than a one-time theft, austerity's payments just keep coming in. At its core, austerity is a permanent shift in the way money and resources flow in our society. It's not about bringing back "prosperity", it's about changing who prospers.
Behind both the profits and the suffering lies a clearly political, albeit still very economic motive. The two are never far apart, since both fundamentally come down to the many bargaining processes which rule our lives. Austerity entails shedding a lot of responsibility, public and private, for the well-being of workers. Shifting this burden alters the fundamental balance of power, allowing a few to gain far more leverage and thus make much larger returns. High unemployment and low welfare rates are classic examples of this – how much you get paid tends to come down to whether you could find a better paying job (or OW cheque) faster than your boss could find some desperate scab who'd work for less. For this reason, cuts anywhere tend to have reverberations everywhere and often gain a lot of political support from people who don't seem directly affected.
There's another dimension to this shift, though, which helps to explain why so many other capitalists are angry. Neither the state nor capitalism are monolithic hierarchies. Within each are a lot of competing individuals and factions. What's good for banks isn't always good for auto-makers, and what's good for auto makers isn't always good for retailers. Marx wrote long ago about the inherent conflict between "industrial" and "financial" capital, but this is only one of many examples. Some investors seek stable, long-term growth, while others look for large but risky short-term returns. Since most of the major players in finance these days are playing, primarily, with other people's money, it's obvious which they prefer (and why their clients are so annoyed). A lot of people in the business world held a strange fixation for Occupy Wall Street and often echoed support for its message. They weren't calling for "class war", though, just some stability to the current class system, a totally understandable response given the way bankers had recently lost their fortunes at the global craps table. These days, this is often articulated, ironically, in the language of GDP growth, also backed up by plenty of evidence.
As I've already mentioned, austerity is one of the only points where I agree, even partially, with Krugman or Lagarde. Nonetheless, I still feel the capitalist critique of austerity is very relevant here. It reveals a lot about austerity, but even more about capitalism itself. As for political strategy, I'd say there's two big implications. The first, given this kind of widespread opposition, is that a political victory against austerity is entirely possible, maybe even probable. The second, though, is that it doesn't end there. Defeating austerity alone is hardly a "radical" goal and in many ways would likely strengthen the status quo. That's why so many capitalists support it, and that's the inherent danger of reformist politics.
Austerity is like a fad diet – unhealthy, unsustainable and usually resulting in an actual weight gain. The national debts derided by austerity proponents skyrocketed most (especially in America) during the reign governments like Reagan and (either) Bush, who came to power pledging to eliminate them. This embezzlement continues not for any of the stated reasons – economic recovery, stimulating growth or brining "prosperity" – but because it benefits a few people in positions to sway public policy anyway. Above all else, it's a frightening reminder that powerful people don't need to win an argument to get their way, and it begs the more general question of why we allow these people to hold such power in the first place.
A confession: the better part of a year ago, I promised Ryan of Raise the Hammer a photo-essay on Hamilton's "Ghost Crosswalks". Though I took plenty of pictures, I got caught up in other projects and never got around to it, something that's been bugging me ever since. When, this past week, the issue of crosswalks came up in a big way, it seemed like time to make these pictures public.
"Ghost crosswalks" are the last remains of old painted crosswalks which have been left to fade by the city. It's an ironic term with particular meaning in Hamilton after they became de-facto city policy. It's rumoured that Hamilton's long-standing head of traffic engineering, Hart Solomon (now retired), felt crossings without signals were a liability. Signs were removed and lines were allowed to fade. Even last summer I had trouble finding remaining examples which would still show up in photographs.
Solomon's rein has a lot to do with why we have such and overbuilt road network today. He's long been criticized for prioritizing automobile traffic above all else, leaving us with "urban highways" like Main and Cannon and treating bikes and pedestrians as an afterthought. These five-lane roads carve the city into blocks, making travel on foot an arduous, toxic and dangerous affair, especially for those with strollers or mobility issues.
There have been some recent successful efforts to reverse this process, like the battle for a stop-light at Aberdeen and Kent where the first requests only gained a sign telling pedestrians to "cross at the lights" (a 400m detour to Queen or Locke). The downside is that it took a long and sustained effort from some of the most influential neighbourhoods in the lower city. With hundreds more crossings, often in very poor neighbourhoods who're only now seeing our lead pipes replaced, it's hard to imagine more than a hand-full seeing lights installed before the end of the decade, especially where they're needed most.
Long-standing frustration boiled over last week when a group of residents inspired by a recent speech on "Tactical Urbanism" decided to take a little initiative of their own. At Locke and Herkimer they used a few traffic pylons (their adopted symbol) to create "bump-outs" in an attempt to calm traffic and give kids from the nearby school more space to stand. Then, in an even more daring act of guerilla civic planning, somebody installed a crosswalk at Cannon & Mary (I'm told they "painted" it with cornstarch). Cheeky and poignant, it was direct action at its finest, albeit pretty tame by even the standards of teenage pranks.
Then the city found out.
Public Works General Manager Gerry Davis freaked out. They contacted police, sent a memo to council and declared the work of Tactical Urbanism supporters to be "illegal, potentially unsafe and adding to the city's cost of maintenance and repair". The ad-hoc crosswalk was painted over with black and the cones vanished.
After years of letting cross-walks fade, they're now seeking to criminalize the very act of painting crosswalks. Not surprising, I suppose, after their crackdown on jaywalking, it's pretty clear that they're more interested in punishment and blame than addressing their own shortcomings as traffic engineers. Beyond that, there's the matter of control. Authority never likes being challenged and can often be prone to 'overreact' when it feels that's happening. City bureaucracies operate on the premise of total control over their domain. Residents taking this kind of initiative can be a terrifying prospect for staffers, threatening their already tenuous hold on chaotic city life.
The Public Works department, of course, is already having a rough week. The ongoing "time-theft" scandal, which saw 29 front-line workers fired for severe slacking last January, has now focused its attention a little further up the ladder. Of 28 supervisors, 16 found themselves under investigation – of those, four have now taken early retirement and a fifth quit outright. Others may be facing suspensions. This only confirms a long-standing image of the department's work-ethic (or lack thereof), provoking another firestorm of public criticism, which I have no doubt is contributing to a bit of a siege mentality down at 77 James North.
In the face of years all this embarrassing inaction, it isn't surprising that a few vigilantes have taken it upon themselves. Gerry Davis may feel this is dangerous, but letting crosswalks fade has consequences of its own. In 2007 an elderly couple was struck and killed at a notorious "ghost crosswalk" in Stoney Creek. As one neighbour complained, it had been a school crossing before the city removed the signs and crossing guard then left the painted lines to fade. One has to wonder how many more have been hurt or killed over the years at these crossings, or if it's ever even been studied.
In this case, as in too many others, bad traffic engineering can kill. Focusing on the free and easy flow of automobile traffic to the exclusion of all other road users has not produced a safer or more prosperous city. The neglect shown for pedestrians revels a whole host of prejudices: classism, sexism, ageism and ableism, which suggest that some road users just aren't as "important" as others. In spite of this, people still need to travel the city, even those with walkers, wheelchairs, strollers or scooters. They will cross streets wherever they can, because the only other option is turning around and going back home. If this means a regular risk of injury or death, that's just something we've come to accept as part of modern urban life.
It doesn't have to be this way. Making a trip to the doctor, day care or convenience store doesn't need to mean a pulse-pounding, real-life game of Frogger. Neighbourhood planning must first reflect those who live and spend time along those streets, and only then give though to matters like the efficient flow of traffic to and from suburban bedroom communities. Through acts like Intersection Repair, which helped inspire Tactical Urbanism, neighbourhoods have had amazing success redesigning and repainting their own streets, going so far as to install benches and bookshelves along the sides of elaborate road-murals. Most inspiring of all, city departments learned to live with it. Let's hope that recent actions mark the beginning, not the end, of 'autonomous civic engineering' around our city, or at least spark a little serious soul-searching amongst those who do it for a living. After all, there's little point making a city an easy place to drive at the price of making it a safe place to walk.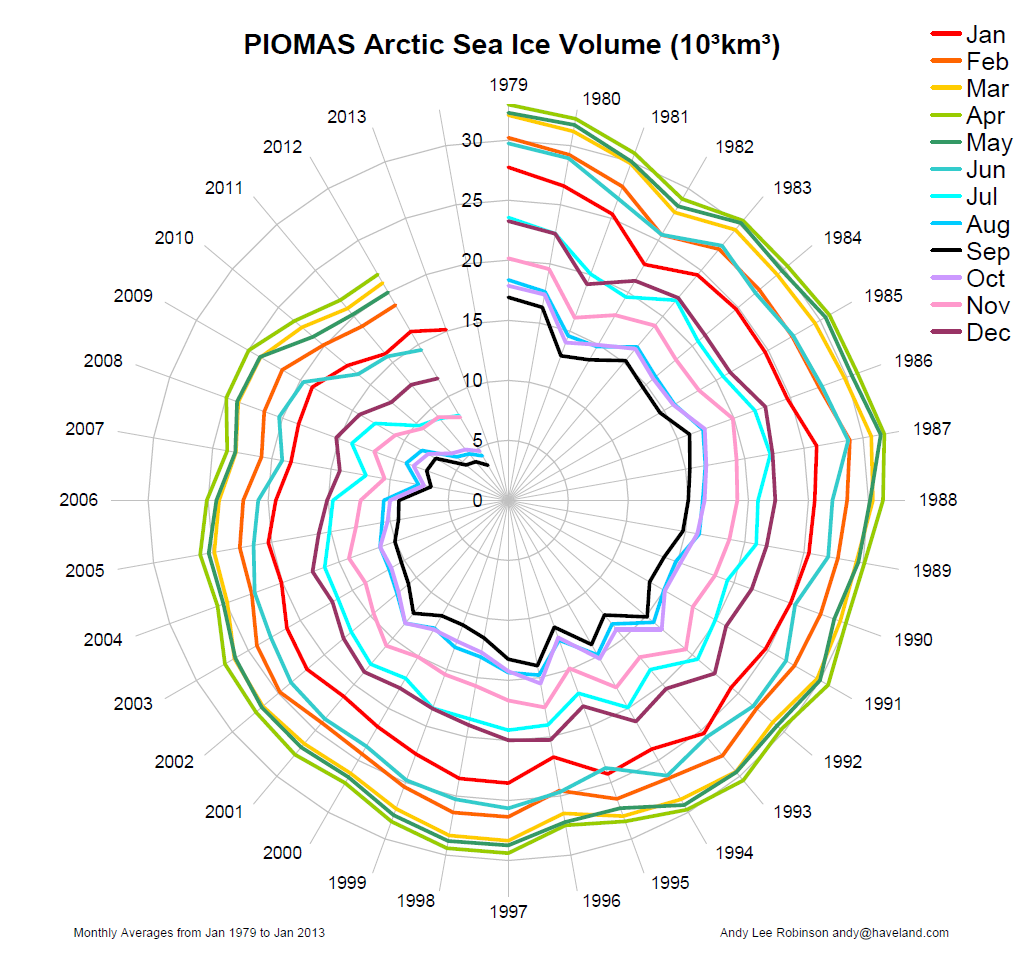 A very telling controversy just erupted over a quiet "emergency" meeting held at the White House to discuss the serious possibility of an ice-free Arctic within the next two summers, what's now being called the "Arctic Death Spiral" (see graphic). It's seen almost no mention in the American press, but has been covered by The Guardian and Australian, as well as many smaller news sources. Some are downplaying it, and others are obviously exaggerating. The disputes, though, relate mostly to who was there and how much of an "emergency" it was considered. What isn't in dispute (and was already known late last year) is the situation in the Arctic. Last year saw a record melt and this year has already seen ice covering the Beaufort Sea shatter like a sheet of glass over a few weeks in February and March. Every summer much of the Arctic ice melts, but over the last few decades total summer coverage has been shrinking dramatically. At current rates, this trend could hit zero as soon as 2015.
Let that sink in. "Melting the polar ice caps" has long been touted as one of the worst possible outcomes of climate change, with the potential to sink coastlines or disrupt global weather patterns. As recently as a few years ago, the "worst case scenarios" warned that it could be coming as soon as 2100, or at worst, 2050. Now it's starting to happen before our eyes.
This comes along with word that our atmosphere is due to reach a global average of 400ppm of carbon dioxide sometime this week. Admittedly, this doesn't really mean any more "doom" than 399 or 401, but it's a frightening milestone nonetheless – this is likely the highest concentrations have been since the Pliocene era, 3-5 million years ago. The best estimates so far suggest that 450ppm is the upper level if we want to prevent "catastrophic warming", but as the above paragraphs illustrate, those estimates may have been somewhat conservative.
Meanwhile, in Canada
In Ottawa, our own leaders generally spend their time cutting climate-related research budgets and making ignorant statements. Leading the charge is Natural Resources Minister Joe Oliver, who's most recently taken on Al Gore and NASA's James Hansen over their criticisms of the Tar Sands. Before that he was forced to clarify that he did, in fact, think climate change was "important" after telling reporters that "people aren't as worried as they were before". Perhaps the most worrying of these embarrassing statements are those where he talks about the need to get in on massive demand growth for oil in the developing world, for which he cites the IEA. Unfortunately for him, what the IEA actually said was a little more complicated. It forecast a couple of scenarios for global oil development over the next few decades then worked out how much carbon each would put into the atmosphere. The scenario that Oliver cites is the one in which we take no serious action and approve all projects, ending with a "94% chance" of catastrophic warming.
This IEA research, which has been public since late 2011, gives another near-future deadline: 2017. If we don't turn away from building new high-carbon infrastructure (power plants, industry, buildings etc) by then, we'll be "locked in" to a course toward at least 450ppm. By the end of their expected operational lifespan, they will have burned enough fuel to cross that line. This, as the IEA says, will "close the door" on warming of less than 2 degrees Celsius.
There is more than enough carbon in the Tar Sands alone to put us over that level, as I've shown before, and as scientists like James Hansen have been trying to point out. Even without them, though, the world could still easily cross the line.
"Fire Ice"

An even larger stock of carbon, equal to about five times everything we've burned since the beginning of the industrial revolution, lie frozen in the (quickly melting) Arctic. Hydrates of methane form when gas bubbles get frozen into a lattice of ice crystals, creating ice you can light with a match. As temperatures rise, ice melts and the methane bubbles to the surface and escapes into the atmosphere, where it traps heat (an estimated) 20-25 times as effectively as CO2. This represents one of the "tipping points" we so often hear about where even a slight warming can set off a chain reaction causing far more. Recent readings found the highest methane readings ever recorded in the Arctic, which closely correlated with regions of melting ice.
Not content to wait for such a disaster, states and corporations are now testing these methane hydrates as a potential source of energy. One such venture, sent from Japan, just succeeded in extracting natural gas from one of their own deposits under a kilometre of ocean. Other countries, like America, aren't far behind and though Canada has now dropped out of the race, we developed a lot of the initial technologies on our own Tundra.
Acid Rain? Meet Acid Oceans…
Another big report is being circulated this week, pointing to another emerging threat in the Arctic – acidification. As the carbon dioxide content of our atmosphere increases, so does the amount absorbed by the sea, especially in cold polar waters. Since the ocean absorbs CO2 as carbonic acid, it shifts the overall PH level, making the water more acidic. The study found "widespread and rapid acidification" which threatens disastrous implications for marine life, especially anything with a shell. Worldwide, the report states, the surface acidity of the oceans has increased about 30% since the industrial revolution began. Particularly vulnerable are tiny life forms like phytoplankton, which make up the base of the marine food chain. Phytoplankton, by the way, is crucial because it can photosynthesize like a leaf, making it an important part of regulating the world's CO2 levels and the source of at least half the world's oxygen.
Our Petrochemical Addiction
In spite of all this evidence and more, new-generation petrochemical projects like the Tar Sands are still considered urgent government priorities. As the timeline for taking meaningful action shortens from decades to years, our leaders aren't just dragging their heels, they've broken into a run in the opposite direction. Not only are carbon emissions still rising, but they're picking up speed Another international summit, this time in Bonn, Switzerland, just concluded with slight progress, but yet again hit the familiar stumbling block of mutual US-Chinese reluctance to act first. As the date for a "conclusive" treaty gets pushed back to 2020, it's hard to expect much. Our government has already virtually committed itself to missing our targets, so why should anybody else bother?
This cognitive dissonance can't last forever. Each year that we put off taking serious action and instead pursue more growth in emissions is going to make the eventual transition that much more painful. We're not just continuing our fossil fuel addiction – we're deepening it. By developing new kinds of "unconventional" petrochemical extraction, we're literally re-inventing it. The massive investments now flowing into (very capital-intensive) fracking, tar sands and soon methane hydrate exploitation represent time, land and creativity that isn't being put toward the "renewables" they celebrate so often.
This is creating another kind of "death spiral", one in which we're spending ever-larger amounts of money on continually-diminishing energy returns. As this drains the life from a world economy which got used to $15-30 barrels of oil, desperation sets in and the drive to exploit our remaining reserves takes over. These pressures are only going to get worse as we become even more dependent on dwindling fuel sources, and as the cost of ecological side-effects like hurricanes, floods and crop failures continues to mount. This path leads only to ruin, and the sooner we get off it the safer we'll be.
I live near Barton St and work downtown. I see this logic play out every day. What starts as a totally voluntary indulgence in a magical substance which makes everything go faster soon becomes habit-forming. Not long after that, one can barely move at all without it. For a while, it seems glorious – a world of wealth, luxury and vanity – but soon enough the posh nightclub walls fade away and you find yourself on a mouldy matress in the slums. Before you know it, you're heating  rocks with a gas flame then sucking hard on a pipe. Sound familiar?
Sometimes, ya just have to quit. Even when it's hard. Especially when it's hard.
This is why people are turning to direct actions like Monday's blockade of Highway 6. The world is quickly running out of time and potential "tipping points" are coming into view. Along with this new zeal for "unconventional" oil and gas (tar sands, fracking, etc) comes a whole host of new risks, and the global export network now threatens to spread them across continents. The profits, so far, have proved large enough to sway governments to their side. This kind of reckless disregard for the future of life on earth should give some indication of the "fitness to govern" of everybody involved in these decisions. The appropriate time to begin "reforms" was yesterday. What we do today may need to be a little more dramatic.
Late this morning a group of protesters halted traffic on Highway Six to call attention to the pending reversal of Enbridge's Line 9 oil pipeline. Choosing the spot where Line 9 passes under the road (around 7th Concession), they unfurled a fake oil, spill and backed up traffic "for miles". At least six OPP cruisers were reported at the scene, though so far no arrests/tickets have been reported.
The brief blockade, intended to last 90 minutes for the 90+ "significant" spills Enbridge averages each year, came out of a collaborative effort of Hamilton, Guelph, K-W and Six Nations activists. Hwy 6 was chosen as one of the region's busiest roads as well as for its proximity to the pipeline's Westover terminal. Along with signs, a fake pipeline and mock oil spill, they brought muffins to pass out to drivers as an apology for the inconvenience. All reports (so far) suggest high spirits, great weather and no real trouble.
Line 9, a 38-year-old oil pipeline runs from Montreal to Windsor, following roughly parallel to highway 401. Envridge is currently seeking permission to reverse the flows as a part of wider plans to find new export routes for Tar Sands oil. In Hamilton it runs through the Beverly Swamp – the region's largest watershed – before entering the densely populated Greater Toronto Area. Thanks to Harper's campaign of environmental deregulation it's overseen only by the National Energy Board. The NEB has now come under fire due to the new, long and convoluted application process for citizens participation, which few managed to finish by the deadline. Even Hamilton's City Council voiced concerns, though their request for a full environmental assessment has since been rejected by Minister Kent (ironic, eh?).
Today's action represents the beginning of a third front of direct actions against the Tar Sands and associated pipelines, joining the Unis'tot'en in British Columbia (Gateway) and Tar Sands Blockaders across multiple states (Keystone XL). Unlike those proposals, though, the "eastern route" re-purposes existing pipes, meaning there's few if any construction sites to block. With only months left before hearings and "integrity digs" finish, time to prevent the pumping of bitumen through our region is rapidly running out, prompting opponents to 'step up their game' and start looking for other options. Line 9 crosses hundreds of other major roads along its route, all offering their own opportunities to draw attention and cause disruption. What's so brilliant about this tactic, of course, isn't that it creates chaos but that it doesn't need to create much – every time any one of these crossings sees a blockade, it calls attention to every other one and the risk that soon enough people in real HAZMAT suits might be blocking traffic to clean up a real spill.
Postscript: Since Posting this, I've done a lot of driving, including going to Guelph and back along this very stretch of Highway 6. Heading out, I spent forty minutes in bumper-to-bumper traffic trying to find a detour after a garbage truck ended up on its side on the 401. Heading back much later I saw nary a car until running into a full-blown roadblock, this time for another truck crash (involving several cars and a fertilizer truck), prompting another adventure down sideroads. For all those angry about blocked roads, I hope this gives a little context regarding how often major traffic disruptions take place.
About 30km north-west of the French city of Nantes lies the sleepy little commune of Notre-Dame-des-Landes. This small, sleepy town is surrounded by tiny farms, fields and hedgerows – a throwback to the ancient field patterns which once covered most of France before falling en masse to agricultural modernization in the 1960s. Just south of the town lies the proposed site of the Aéroport du Grand Ouest, which for about forty years now has been the subject of locals' protests. Seemingly defeated in the 80s, the idea was recently revived as a "gateway to Western France" with support from some of the highest officials in the French government (yes, even the "Socialists").
Construction on this reviled megaproject was to begin last year. It didn't.
For years residents had attempted to fight the proposal through community groups like ACIPA, to little effect. With numbers starting to dwindle as neighbours gave in and sold their land, those who remained decided to try something different. In 2009, the area was chosen for a "Climate Camp", a convergence of activists like those which had protested airports across the UK. As usual, activists busied themselves pitching tents, holding workshops and disrupting the local airport (Nantes already has one, by the way), but instead of packing up at the end, the locals invited them for an extended stay. Taking an old bureaucratic acronym for the site from the 1970s, meaning "Deferred Development Zone", it was renamed the "Zone À Défendre", and the ZAD was born.
Over the next three years a steady stream of dreamers, outcasts, activists and anarchists arrived to make the ZAD their home. They moved into farmhouses abandoned by families who sold, built their own off-grid homes or took up residence in Rohanne Forest. Though relations weren't always easy, farmers and squatters managed to work together and created a 4000-acre autonomous zone on the threatened lands. In the spirit of anarchist and mystic Hakim Bey's classic essay about Temporary Autonomous Zones, they carved out a free space large enough for a self-sustaining community, right in the middle of Western France. What emerged was a mix of traditional French country life and radical experiments in sustainable living, from dirt-cheap eco-building styles to permaculture farming – a present-day, post-apocalyptic utopia, of sorts.
Obviously, such blatant disobedience couldn't be tolerated, and the French government eventually ran out of patience. On October 16th of last year an army of 1200 riot police converged on the ZAD, hoping to "cleanse" the area in time to begin surveys the next month. With bulldozers and tear-gas, they drove inhabitants back and began to demolish their homes and gardens. At one point they reportedly fired at least 250 cans of tear gas into Le Sabot, the market garden which had fed 100 "ZADists" a week, seemingly in an attempt to contaminate it. Defenders responded by building barricades and digging in. Nine of the twelve squatted homes were razed and numbers reportedly dropped to a few hundred at best. All seemed lost, were it not for a year-old, half-cocked plan to "re-occupy the Zone" four weeks after the first evictions.
Four weeks later, the "re-occupation" arrived. A massive convoy with an estimated forty thousand demonstrators and four hundred tractors arrived bearing mountains of supplies. Human chains of people delivered stacks of lumber as effortlessly as ants carrying away a picnic, and the farmer's union encircled the remaining encampment with their tractors to protect it from police bulldozers. They filled the Zone with a whole new generation of inhabitants and began the rebuilding process. When police attempted to expel them, masked youth fought back by slinging rocks, mud and occasionally worse. They managed to drive the police out of the zone, who fortified at "checkpoints" on major roads, though they still return regularly to menace the ZADists.
In the months since, the ZAD has endured in an uneasy standoff behind police blockades with the occasional exchange of rocks, tear gas and concussion grenades. The government is still pledging to get work under way, but behind the barricades, the occupation lives on.
This struggle has seen almost no attention in the English-speaking world, even in social media, which is really unfortunate. As far as environmental struggles go, this one is right out of Tolkein, complete with hobbit-homes and medieval siege warfare. It's the largest squatted community in Western Europe, and represents a whole host of crucial experiments in off-grid living. The massive scale of the ZAD allows them to be largely self-sufficient economically and nearly impossible to fully evict, something which most European squats or even squatted neighbourhoods like Copenhagen's Christiania haven't been able to manage. Thus, the ZAD grew into more than protest, an occupation or a squat – a living, breathing microcosm of a different world – and one without airports, governments or capitalism.
ZAD.nadir.org – ZAD Homepage (English)
Rural Rebels and Useless Airports: La ZAD, Europe's Largest Postcapitalist Occupation (Part 1, and Part 2)
Against the Airport and Its World – A collection of translated texts from the struggle.
Breaking Concrete: Selected Texts From Lèse-Béton – More translated texts from Lèse-Béton, one of the main ZAD publications.
It was one hell of a Mayday, and I'm only starting to recover. After two marches and a block party, I feel like I could sleep for days. With great weather and high spirits, Hamilton saw a day of actions which took the lower city by storm.
Events kicked off with the Anti-capitalist march, which converged mid-day at King and MacNab. The turnout was great – well over a hundred ranging in age from small kids to seniors, with a lot of new faces. With signs, banners, flags and a pumping soundsystem, we marched up through the bus terminal toward Main, then rallied at the corner opposite the Drake International office for a speech about temp agencies. We then continued along Main and attempted to turn left onto James, which is where trouble started.
A wall of police on horseback blocked our way as others with bikes and a van circled around. Those at the front tried to push through, but the horses pushed back, driving the banner and crowd back into the intersection, followed by a much longer standoff before the decision was made to continue down Main instead. Moments later, the police were caught off-guard when marchers took an abrupt left-turn into the parking lot.
This kicked-off a game of cat-and-mouse with police, who scrambled to re-deploy and corral us away from the core at every intersection. From the parking lot we cut up the alleyway onto Hughson, stalling again at King when met by the next large group of cops. Marching further north, we went a few blocks before spontaneously doubling-back up Hughson, onto Rebecca then over to James. Next we stopped at James and Wilson for another speech, this time about the effects of Payday loans, in front of an outlet on either side of the street. For the last leg we went eastward along Wilson for one last long stop in front of a wall of cops at Mary before finally settling on the grass of Beasley Park. Police then surrounded the park, confronting people they'd singled out for tickets (obstructing traffic, etc) as they tried to leave.
All in all, hundreds of dollars in tickets were given out and one kid was arrested for missing his last court date. At least a hundred was raised by passing a hat, but look for more fund-raising soon.
Following a brief rest in the park, a bundle of free bus tickets were distributed and a few dozen of us boarded HSR busses bound for Centre Mall to join up with the Steelworkers' rally. Behind the 1005′s union hall we heard speeches from Union leadership and the Mayor, mostly related to the lockout of US Steel's recent lock-out of workers at their Lake Erie facilities. As they finished, a few hundred took to Kennilworth, Barton and Ottawa, for a second march, this time with a much smaller and more polite police presence before returning to the union hall for a barbecue and social.
As we bussed back to Beasley Park, we found the Block Party kicking off and crews setting up a sound-system, decorations and food servings. By this point police had virtually disappeared, with only a few small bike-patrols riding through intermittently. The park quickly began to fill with a mix of neighbourhood residents, local activists and more kids than I could count. The crowd quickly grew to a few hundred with line-ups for free food stretching across half the park. Soon the DJ was replaced by the sounds of Klyde Broox, Lee Reed and Mother Tareka performing live, with festivities continuing until around nightfall.
As we retreated for a truly massive victory party at our hidden rebel base, there was no dispute, the day's events were a pretty phenomenal success. Once again we managed to strike a balance between a militant presence in the streets and an engaging presence in the community without compromising either, proving once again that they aren't exclusive goals. That being said, I'm quite glad we decided to put a little more time between between the two this year, a few dozen angry cops wouldn't have done much for the party vibes.
Like last year, both downtown actions were organized by the re-formed "May 1st Committee", an ad-hoc assembly of local anarchist talent. Unlike last year, we managed to pull it off with a a smaller and younger crew, many of whom were first-timers, and we didn't start till the beginning of April. As hectic as this was at times, it represents exactly what I love about organizing with anarchists, a process which is almost totally informal yet frighteningly efficient. The biggest drawback, ironically, is the difficulties in corresponding with more bureaucratic organizations (unions, neighbourhood associations, etc) who tend to operate on a very different time-scale. That said, we do regularly correspond with both, and for anybody who's wondering – yes, we did check first with the Beasley Neighbourhood Association about using the park, just like last year. What we didn't file for was a march permit, as asking permission from the state would totally defeat the point of a protest.
Looking back, I'm particularly proud that we managed to get various promotional materials translated into French, Spanish and Arabic. That was much easier than I ever imagined, and is something we should all be in the habit of doing wherever possible. Also, it was nice to fulfil our ambitions of bringing a posse down to join the Steelworkers' rally, something we intended to do last year but were a little too busy to manage in any organized fashion. Finally, like last year, I'm really glad people took the time to knock on doors and not simply rely on impersonal promotions like posters and social media. This kind of groundwork isn't "exciting" like Greek riot porn, but the efforts shouldn't be forgotten – it's a crucial part of actually reaching the people around us, rather than just creating another spectacle to gawk at. If a bunch of us kids could pull it off, then so can you.
What would I like to see next year, and for future Maydays? More than anything else, I'd like to see festivities spread to more neighbourhoods, streets and parks. There's no reason any borough in our city should be denied the chance to celebrate in their own way. The issues may vary, from closing schools and vanishing greenspace and countless others, but that doesn't mean we can't stand together as a city. Each time we do this it gets easier and a time will come, I hope, where the "M1 Committee" isn't needed at all. People tend to learn fastest by doing, and as the simple formula of meet, march and party becomes more routine, it opens up opportunities for others to take the initiative, just as we have.
Coverage in the media was even worse than normal, and limited largely to an ultra-brief and largely inaccurate clip from CHCH (their crew left almost as soon as the march began), and a Spec article which focused mainly on the labour speeches and left out the downtown actions entirely. The CBC did better, but was also very brief and only mentioned the first march (though, at least with better context). There was no mention in any of the confrontations with police or message of the downtown march (articulated with speeches and handouts). This only goes to show how limited the corporate media can be as a source for this kind of thing, but I suppose that's why I spend so much time typing away here.
As for the actions of police, they were totally unprecedented, and represent a frightening trend toward escalation at our usually-very-tame protests. Hamilton rarely sees arrests or tickets (save one last September), even though marches almost never seek the "required" permits. In over a decade, I've never seen cops try to block a march's way or corral one this way, except to perhaps keep lanes of traffic open. Despite all the diversions, we never strayed much from our original planned route and managed to reach both Main & McNab and James and Wilson without much trouble. What wasn't planned was being corralled through a schoolyard just as kids were about to be let out – a strange choice if the police were really so concerned with "safety".
An enormous amount of police effort was put into keeping the march away from King & James, but only at the expense of diverting us onto streets like Main or Wilson which were at least as busy. Overall it came off as both hostile and petty – and I really hope the it doesn't continue, but all things considered, it didn't do much to dampen spirits. Instead, it instilled an atmosphere of confrontation and defiance in the march. From that first encounter with the horses, everyone I spoke to was outraged that cops would turn on a totally peaceful march filled with kids. This, in turn, only fuelled desires to march on in spite of them (and largely made our point for us). As for traffic disruptions, this large and confrontational police presence blocked far more traffic, for longer, than we ever could have on our own.
Across Canada and the world, many other cities made news. Montreal had almost 500 mass-arrested in the latest blatant round-up of protesters, there were riots in Berlin, Istanbul and Seattle (to name a few) and Greece had a general strike. Toronto had thousands marching, as did Barcelona, Manila, Copenhagen, Phnom Penh, Mexico City and Dhaka, Bangledesh. With the world still reeling from the deaths of over four hundred workers as an eight-story sweatshop complex collapsed in a Dhaka suburb and the continuing train-wreck that is austerity-stricken Europe, it's becoming clear that Mayday and the struggles associated with it are still just as relevant in the 21st century as they were back in the 1870s and 80s. Today, like then, it's a day of remembrance for all those who've died so that we can go home at 5pm, enjoy workplaces with fire exits, or even hold an open meeting of "workers" at all. It's a day for both defiance and celebration, in the name of all the victory's we've won so far, and all those we have yet to win.
A big (non-implicating) thanks to Food Not Bombs, the USW 1005, CUPE, SACHA, the Beasley Neighbourhood Association, Jared the Weenie Man, Steel City Solidarity and even the Young Communist League – I know ya don't all agree with our politics, but solidarity's always refreshing. A big congratulations, as well, to all the folks, houses and families who helped make Wednesday happen. You're all amazing, inspiring, and have helped renew my faith in this old, embattled city.
Disclaimer: This post represents the viewpoint of "Undustrial" and not the M1 Committee as a whole. A more official collective report-back is on its way and I'll repost it when it arrives.
Update: It arrived. Read the full, committee-approved reportback, posted today (May 6) on the Toronto Media Coop.
A note to my dear readers – I've been very busy over the past two weeks and haven't been able to post much – for that I'm sorry. While writing has always been one of my biggest passions, it sometimes has to take a back seat to real-world action and organizing. There would be little point to writing about these issues if I weren't willing to put in some real-world effort to change things, nor would there be much point in reading my words if I didn't have years of experiences to base my insights on. As such, I've done a lot of organizing lately and haven't had a lot of time for blogging. The last weeks of April are to anarchists what the last few weeks before Christmas are for most – a mad, hellish scramble to get everything together for the big day. Which day, you ask?
This coming Wednesday, the world will once again celebrate "International Workers Day", commonly known as Mayday. For well over a century now it's stood as a time to celebrate workplace resistance, and it's been making something of a comeback of late. As mass-movements around economic justice start to re-emerged, so did the kind of large-scale strikes and street actions historically seen around Mayday. Last year saw enormous celebrations spanning several continents, some of the largest celebrations in memory. This year, we see if such festivities can, again, become a tradition.
Mayday's origins trace back to May to at least 1886. On the first of that month, a general strike that had been planned for years swept across much of the United States, demanding an eight-hour workday. This met with cops, scabs and strikebreakers, and by the third several workers had been gunned down by police outside the McCormick Harvesting Machine Company in Chicago. This inflamed tensions and prompted several notorious anarchists to call a rally in Chicago's Haymarket Square the next night where they gave fiery, revolutionary speeches to a crowd of a few hundred or thousand. As the last one ended, police charged and a massive battled ensued killing several and injuring dozens. In the fray a bomb was thrown at police, and while it's unclear to this day who (or even which side) was responsible, authorities decided to round up group of organizers including August Spies, Samuel Fielden, Adolf Fischer, Albert Parsons and others. Their trial became an international sensation – lacking evidence relating to the bomb itself, they were prosecuted on the basis of their anarchists beliefs, speeches and pamphlets, with prosecutors arguing that their fiery rhetoric had inflamed the crowds.Following the notoriously rigged trial they were found guilty and several were publicly executed. This shocked and angered workers and movements worldwide, and by the end of the century yearly demonstrations in May had become a tradition.
For Hamiltonians, this story hits home in a few fascinating ways. Since the very beginning, Hamilton has been an important centre of the labour movment. The Nine-Hours movement began here in 1869, and quickly swept across a young Canada with the demand for a shorter workday. In May of 1872, we held one of the continent's first "general strikes" to demand it and marched on the Crystal Palace (now Victoria Park). Combined with the legendary Toronto Printer's Strike in the same year, they (largely) succeeded. It's even been alleged (and I'm desperately searching for a real source on this) that Hamilton was an inspiration to the American strikes a decade later which led to the Haymarket affair. True or not, it's certainly plausible as we've long been connected through organizations like the Knights of Labour to cities like Chicago. In the years that followed, the "Crystal Gardens" became a site of yearly remembrance ceremonies for the Martyrs. Next time you're in Victoria Park, take a moment to read the plaque and think about the generations who've echoed that first springtime march up King Street.
Over the generations, Mayday has taken on many different meanings as struggles evolved. In some places, like the former USSR, it became a nation patriotic spectacle. In others, like the US, it was recently the day chosen for a coordinated national action of millions protesting immigration law. In the last few years, as economic collapse and austerity drives have swept the globe, as well as "Occupy" and similar movements overseas, it's began again to resemble it's roots in poor, working and radical populations. What's stayed constant in spite of over a century of changing demands is the underlying theme – that this is about much more than whatever we're demanding at the moment.
This year events are planned broadly – there actions in New York, Toronto, Vancouver among countless others, and of course a general strike planned in Greece.
In Hamilton, there's a number of events and actions planned, along much the same lines as last year. The Anticapitalist March will be meeting up at the McNab St Bus Terminal (King & MacNab) for 12:30, then leaving for an early-afternoon stroll around the downtown core. If that isn't enough marching for you, the Steelworkers will be assembling at 3:30 for a march around the industrial core followed by a BBQ, beginning at their union hall (350 Kennilworth North, across from the former Centre Mall). Barbeque and Block Party festivities downtown, like last year, will happen in Beasley Park beginning at 5pm, with food, music and games for the kids.
Anti-Capitalist March (Facebook Event)
Block Party (Facebook Event)
I'm sure there's other events, too, which I'm leaving out, and I'd heartily encourage anybody else wishes to take a little initiative and start their own rally, march or block party. Mayday belongs to everybody – it's our day, and any success will be measured by how many actions we see, not just the turnout at any particular one. Whether you're angry about pipelines, school closures, robocalls, broken treaties, lockouts, austerity, "Free Trade" or deportations, Mayday is a time forge connections between ourselves and the issues we're passionate about – in short, to build and celebrate a movement. This Wednesday, let's keep the 141-year historygoing and show that ole' Steeltown still has a little fight left in her.
See ya there.

As Britain mourns (or celebrates) the death of former PM Margaret Thatcher, it's also finding itself on the verge of a whole new national battle between labour and employers. For the first time since 1982 when workers walked off the job en-mass to protest Thatcher's cuts, and before that 1926, there is serious talk of a general strike amongst some of Britain's largest unions.
Nothing is certain yet and there isn't so much as a date announced, but Unite has now acknowledged that talks are underway. This confirms months of rumours that British unions had been considering escalating their battle against austerity and adopting a tactic now common in countries like Spain and Italy. The proposal still has a lot of opposition to overcome, it may not even be legal and certainly doesn't have a consensus behind it (yet), but now that discussions are official, there's no doubt that organizing efforts will begin.
With this return to more traditional and confrontational union politics, Unite and others are hoping to rejuvenate the beleaguered labour movement and reclaim its role in broader society. Whether one action could accomplish such ambitious goals is certainly up for debate, but after the colossal failure that has resulted from coalition politics, it's hard to fault them for wanting a more direct approach.
For those who don't follow British politics, a little background: among the European nations which implemented "austerity" policies in the wake of the EU's debt crisis, Britain adopted some of the strongest measures of any wealthy nation. These are now widely acknowledged to have been a colossal failure and actually plunged the country back into recession. Like most, this hasn't deterred the government which continues to pursue even more cuts in an attempt to dig their way out of the hole they're in. In the wake of these cuts, British society is now more unequal than any point since the Second World War. The simmering rage over this state of affairs has already lead to massive and rowdy protests and viscious rioting and promises to continue even if a general strike doesn't materialize.
The UK's woes are only one part of the never-ending financial crisis which is gripping Europe. Even though austerity has been acknowledged for years now as failing to "stimulate the economy" or lower interest on national debts, it continues to be the only solution offered by Angela Merkel and the central bankers. These policies led back to recession in Britain, Spain and Italy and brought on full-blown disaster in Greece. With recent events in Cyprus, it's clear that even personal bank accounts are no longer considered safe if the need to bail out banks arises.
Those of us in Canada should pay close attention to how this struggle unfolds. As our government pushes it's own austerity agenda, we may soon find ourselves in a similar situation and considering similar measures. It's only through such militant tactics that the labour movement was able to establish itself in either country, and as the use of wildcat and general strike dwindled, so did the movement's influence. For decades now, we've witnessed a stagnation of real wages, the widespread growth of precarious employment and the devastation of our manufacturing sectors. If the experience of nations like Britain and Spain is any indication, austerity stands to make this much, much worse. "Playing nice", making concessions and "not rocking the boat" have failed, completely and utterly, to stop these trends. It's time to try something else.
The Royal Bank of Canada (RBC) is in a bit of trouble at the moment. It infuriated the country days ago by announcing dozens of layoffs along with the contracting of iGATE to provide temporary foreign workers as replacements (who the laid-off workers were to train). People quickly connected the dots and after a look at the bank's record-breaking earnings announcement last year, the internet was soon awash with talk of boycotts. RBC responded, denying allegations and claiming they found new jobs for everybody terminated, but reporters have had little problem refuting this with further (ex)employee interviews and Federal permits.
The idea of losing jobs to cheaper foreign workers is rarely popular with either the left or right. While conservatives appeal to nationalism and xenophobia ("they took our jobs"), labour (quite rightly) points out that it's really just a wage cut in disguise. Beneath the heated political rhetoric, though, exists a far more personal and viceral reason people are frightened and outraged by this kind of news. The sad fact is, we're all replaceable, and if even bankers are at risk of this, then so is everybody else.
Let me be clear, I have absolutely no problem with "foreigners". I'm all for opening every border, or better yet, abolishing the damned things altogether. We must always be wary of racist and xenophobic motives when it comes to these issues, even from apparent "allies". I couldn't care less whether my services were provided by Canadians, Mexicans or Turks – what does concern me is the conditions under which the work was done. In that respect, the notion of "temporary foreign workers" scares me because it's a very precarious legal status typically used to enforce wages and conditions "Canadian" workers would never tolerate. I know, as I'm constantly told, that many Canadians do not "want" these jobs (and why's that?), and that they're often much better than people could get in Mexico or Jamaica (again, why?). While that may be true for (some) agricultural jobs, it clearly doesn't apply here. If there were really no Canadians willing/able to do this work, there wouldn't be anybody to lay off or stick around and train their replacements. Legally, this isn't supposed to happen, but as many radio call-in shows have discovered over the last few days, there's no shortage of major Canadian firms wo do it.
In any case, the fact that one of the country's leading financial institutions is setting this kind of example is both shameful and telling. It's a frightening reminder of how precarious all our positions have become, and not likely to be the last time we hear about something like this.
Why focus on the RBC? Aside from my long-term distaste for capitalism, it also brings up an interesting and notable political situation. Banks have been on the receiving end of a lot of protests over the past few years, with the RBC often taking the brunt of it. Most recently, they've become the focus of national efforts against the Tar Sands and related pipelines for their colossal investments in companies like Enbridge. Locally, marches and rallies have popped up outside the RBC's head branch on more than one occasion.
As someone with a job that often takes me into banks, this can get a little complicated. While I detest the concept of banks, I genuinely like most of their employees (that I know). Contrary to common myth, most bankers aren't "rich" (or even white, or men). Sure, there's a few guys in suits with cushy offices, but most bank employees enjoy a (customer service) job that can be described as "decent" at best. I could say much of the same for government offices, real estate and property management/development firms. It's an important lesson to keep in mind for any institution you oppose – the front line workers are rarely "the enemy".
Which is exactly why I'm so glad that people are getting good and angry on behalf of laid-off bank employees. To my friends who work in banks, those angry protesters outside aren't your enemies either. We might even have your back someday.
Our fight is with the bank as an institution and the role it plays in larger systems of control. That includes it's role in financing the Tar Sands, just as it includes dodgy employment practices and general profiteering. RBC is one of the most powerful corporations in Canada, so it isn't going to escape that kind of focus.
As far as these 45 layoffs are concerned, they raise a lot of bigger questions about RBC's feelings toward these kinds of labour practices. Banks play a crucial role providing operating capital to businesses, and so have enormous influence over business practices. How would my chances of getting or keeping a business loan with RBC be affected if I told them I was looking to lay off, or bring in a bunch of temporary foreign workers? How about if I state objections to outsourcing or hiring temps?
The (north) American Dream of a life-long "career" that supports one's home and family is rapidly disappearing. Precarious work is on the rise as traditional careers vanish. Each time this happens it only increases the pressure on companies, industries and even countries which still offer living wages and benefits to become more "competitive". Whether this happens through outsourcing, temps, migrant workers ("legal" or otherwise), "contract workers" or simply never letting anybody reach "full time" hours, it takes a tremendous toll on working families.
If these strategies bring in more money (and they do), it's not because more wealth is being created – only that less is being distributed. While this might look good for "the economy" on paper, it also excludes a growing number of people from those gains. In spite of a record corporate profits across the board in recent years, the general population still suffers from the recession. Our ability to spend and to repay loans never saw the same recovery, and the more it dwindles, the more 'top heavy' the economy becomes. With more money, investors are able to bid up each other's share and bond prices, fostering "bubbles" and speculation. Without consumers to buy their products, these bubbles quickly go "bust", as we saw with the last couple large market meltdowns. Anybody familiar with markets knows you don't see those kinds of returns without a lot of associated risk.
This public uproar was long overdue. This trend and others like it have gone without attention for far too long. It's a timely reminder that this kind of "efficiency" has serious personal consequences and that a "strong economy" is worth little if only a few see the benefits. The ire that RBC is now witnessing comes not just from these layoffs, but from the high position they hold in the Canadian economy and the horrible example they're setting. It's high time people took notice of what's actually been happening in our workplaces for decades now, and where it's heading if we don't soon find an effective way to oppose it.